We watch The Weather Channel a lot in my household. There's even a family joke that my husband missed his calling by not becoming a meteorologist. Nearly every morning starts off with a cup of coffee and weatherman Jim Cantore in the background regaling us with what corner of North America is under a tornado threat or is receiving the ­decidedly more interesting "thunder snow." During most of last year, though, the headline ­weather story was drought: drought in the Southeast, drought in the Midwest, and record-­breaking drought in the West—which was so severe that it sparked numerous wildfires and caused water levels in Lake Mead to drop to frighteningly low levels. According to the National Oceanic and Atmospheric Administration, record drought gripped much of the United States in 2022. This, of course, put many of our landscapes, which were not designed for drought, into trouble.
---
See more:
How to Identify a Drought-Tolerant Plant
Tips for Creating a Drought-Tolerant Landscape
---
Drought is nothing new. For much of the last 23 years the Southwest has been dealing with a "megadrought," which not only is expected to persist but is likely to intensify and expand east. As you may have already guessed, this lack of water has had implications for gardeners and landscapes. Plants that require constant and consistent moisture are no longer viable (or responsible) choices for many of our beds and borders. Instead, as temperatures rise and rain events become scarcer, it's smart—from both an environmental and economic standpoint—to invest in plants that can take it drier. Many folks assume this means transitioning their lush, leafy gardens into desert-like xeriscapes. That doesn't have to be the case. Water-wise landscapes can be lush and overflowing with plants, but ­achieving that look requires making informed plant ­choices. The following drought-tolerant designs offer inspiration if you're looking to use less ­water but not sacrifice any beauty.
Design Strategy 1 / Match the plant density to the space size
---
The square footage will determine your drought-tolerant garden plan
Drought-tolerant gardens come in all shapes and sizes. From a large, expansive bed that runs the entire length of a property line to a small nook that bakes all day by the roadside, water-wise designs can be adapted to almost any square footage. Just remember that plants compete for resources, so if you're packing a lot of them into a tiny space, you'll need to ensure that all your selections require very little water. In beds that are larger and more spaced out, you'll be able to incorporate plants that may need a bit more moisture because there will be more room for the roots to stretch out and seek it. The key to an eye-catching water-wise design is repetition and layering, just as it is in any other type of garden.
For an average-size bed, pay close attention to the balance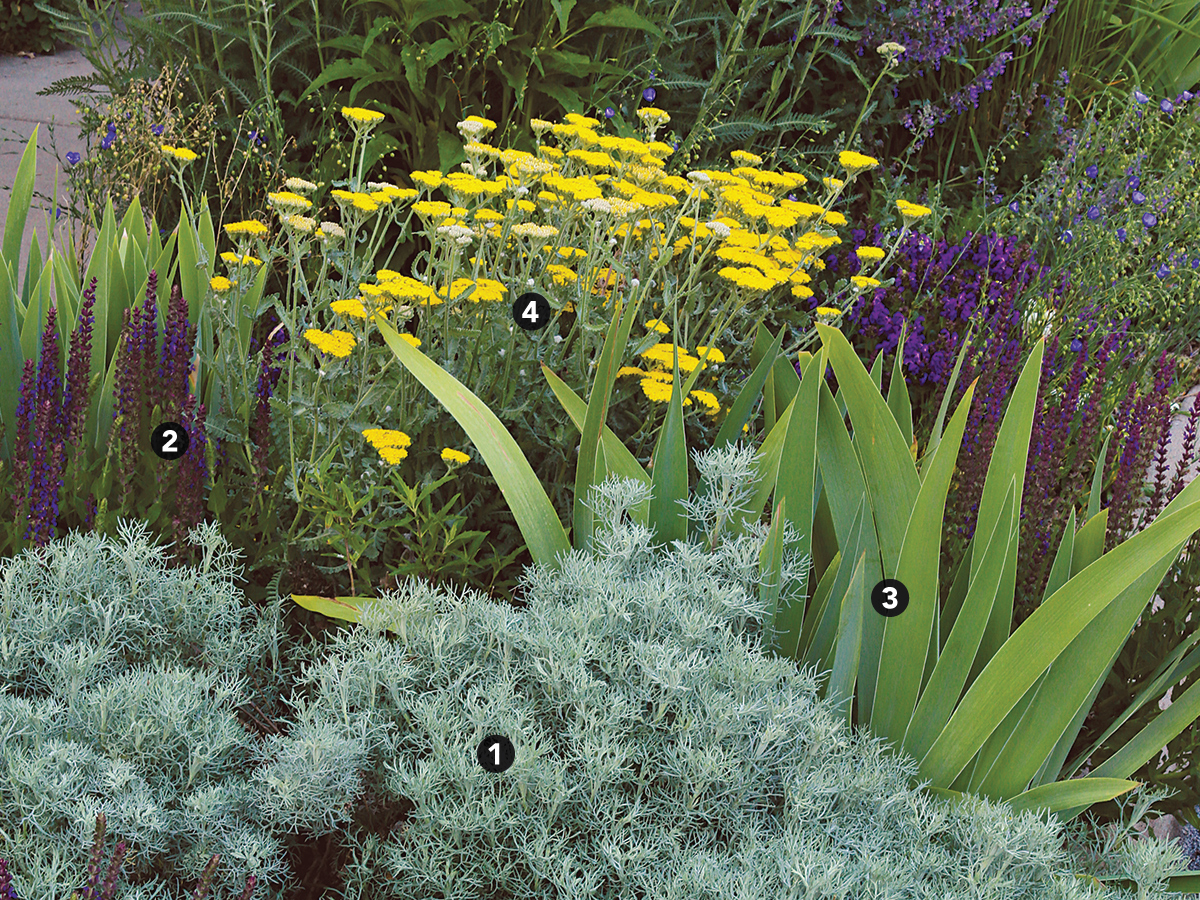 Every plant you purchase has a tag that lists the anticipated height and width of that plant. This is meant to guide you in spacing your selections. But we gardeners regularly take those recommendations with a grain of salt, choosing instead to place plants closer together. In most cases, that's no big deal. But in a water-wise bed, you want to follow those spacing guidelines more closely so that you avoid creating a patch that is overly root bound (and therefore unable to retain much soil moisture). The area pictured here is 6 square feet and is only planted with eight or so drought-tolerant perennials.
Key water-wise plants
Larger spaces make larger plants possible
One myth about water-wise designs is that you're better off relying on smaller plants with smaller root systems. This is only partly true. If you have a larger bed like this border, you can use some larger plants (even trees and shrubs) as long as you choose drought-tolerant species and use them sparingly. Arborvitaes (Thuja spp. and cvs., Zones 3–9), for example, hold up quite well in dry conditions once established. Even many bulky perennials with extensive root systems—such as alliums, calamints, and ornamental grasses—are suitable for dry gardens as long as they have the space to share resources.
Key water-wise plants
---
Tip: "Native" doesn't always mean "drought tolerant"
Because native plants are generally adapted to the natural conditions of a particular region, many believe that in areas prone to drought, native plants will be drought tolerant. But that's not necessarily true. As the climate changes over time, many native plants will be unable to thrive in the "new norm," be it drier, wetter, hotter, or colder. Before planting, do some research to identify an individual plant's threshold for drought rather than just assuming that "native" is synonymous with "drought tolerant."
---
In the smallest spots, less is more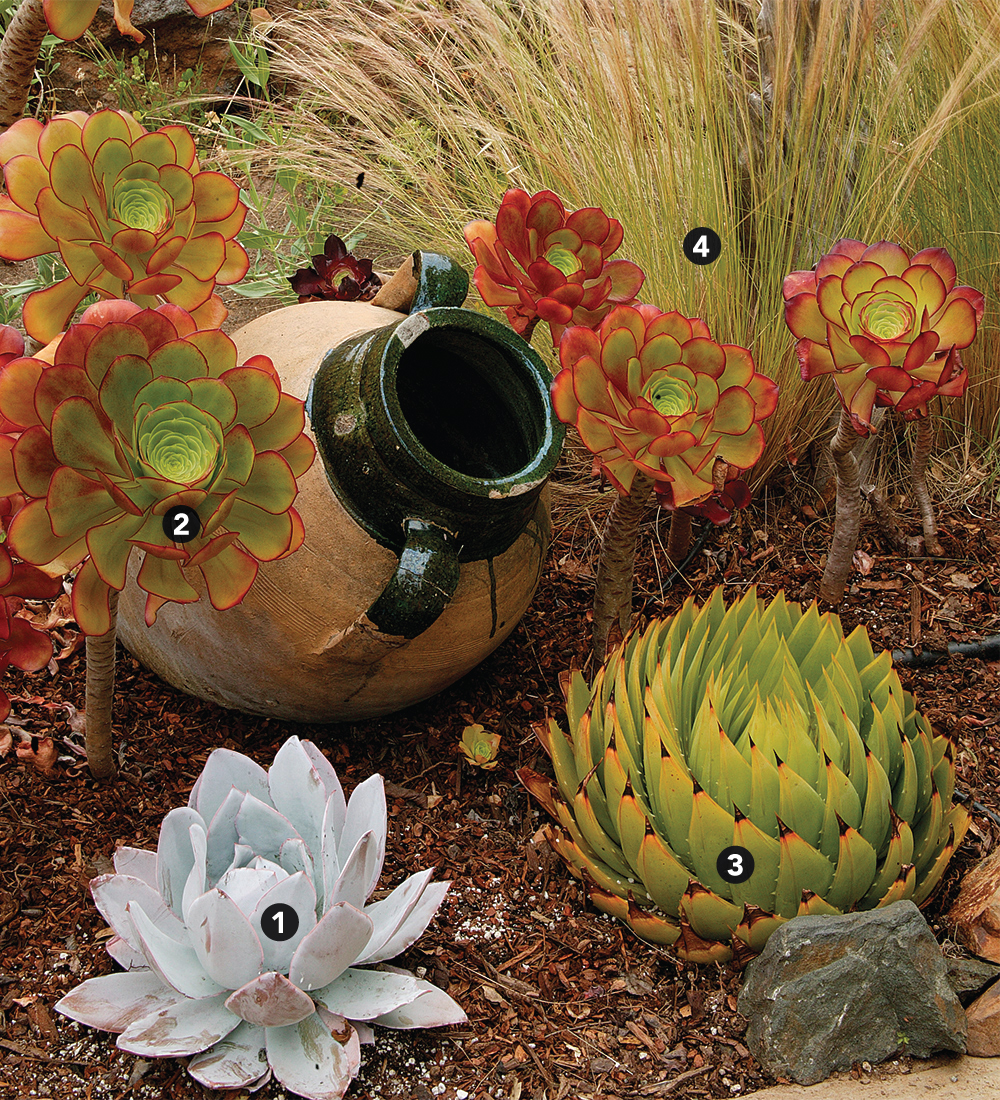 Not every dry garden has the luxury of endless square footage. In spots such as hellstrip plantings or full-sun crevices, which are ubiquitous in many urban areas, you'll need to use fewer plants that are truly tough as nails. Succulents, cacti, and even some smaller species of ornamental grasses are good choices here, but be sure to space them liberally. Even desert natives will compete for what little water is available.
Key water-wise plants
Echeveria (Echeveria cv., Zones 9–12)
'Cyclops' aeonium (Aeonium 'Cyclops', Zones 10–12)
Spiral aloe (Aloe polyphylla, Zones 9–12)
Mexican feather grass (Nassella tenuissima, Zones 7–11)
Design Strategy 2 / Focus on color or texture
---
Eye-catching traits take your beds to the next level
If you've ever searched "xeric garden" on the internet, you're likely familiar with the spaces that dominate the images that pop up. Those spaces are usually filled with large, fleshy succulents and cacti covered in fluffy spines. Strong, bold textures are commonplace in dry gardens thanks to plants like these. On the other side of the spectrum, many of the herbaceous perennials that we lean on in drier conditions can be extremely floriferous and put on an impressive show with their pink, blue, and brilliant yellow blooms. One thing is for sure: Drought-tolerant designs are never lacking in focal-point plants, and the following are just a few gorgeous examples of plants that put color and/or texture front and center.
Similar textures allow complementary hues to shine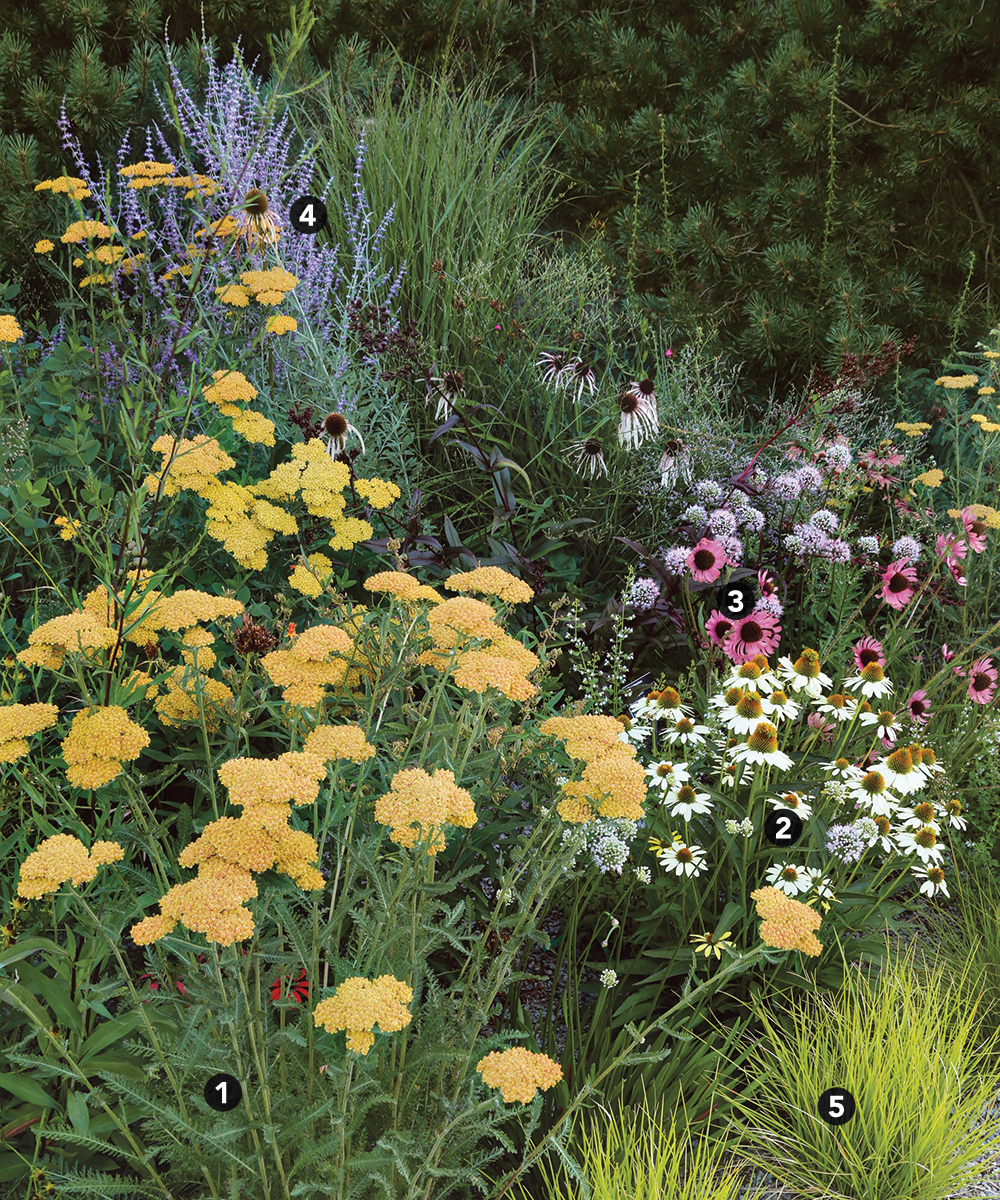 Most of the plants in this gravel garden are finely ­textured. The foliage is narrow, sometimes bladelike, and exudes a soft appearance akin to feathers. This creates the perfect staid backdrop for the various colorful blooms to pop. Yellow and purple are opposites on the color wheel, so planting the golden-hued yarrow with the lilac Russian sage and plum-colored Tennessee coneflower creates striking visual impact.
Key water-wise plants
'Walter Funcke' yarrow (Achillea millefolium 'Walter Funcke', Zones 3–9)
'PowWow White' coneflower (Echinacea purpurea 'PowWow White', Zones 4–9)
Purple Tennessee coneflower (Echinacea tennesseenis, Zones 3–10)
Russian sage (Salvia yangii, Zones 5–9)
Autumn moor grass (Sesleria autumnalis, Zones 5–9)
A bonanza of color and texture never fails to impress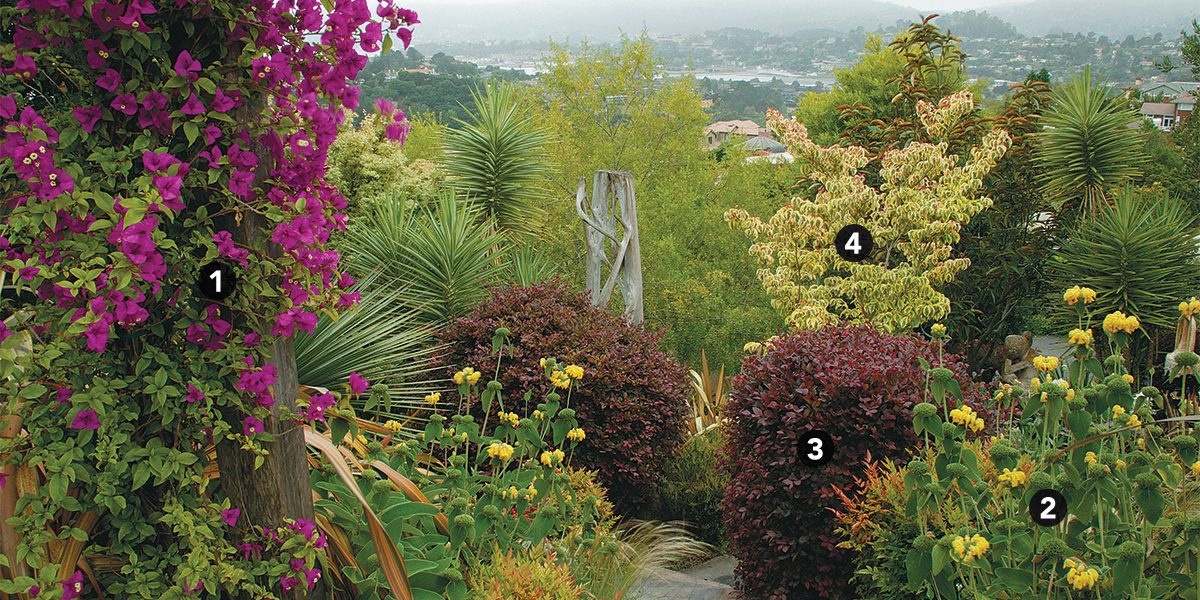 It's hard to decide what's more impressive in this hot hillside garden—the vibrant colors or the bold textures. This space proves that you can combine plants with both eye-catching hues and standout foliage to great effect. The treelike yuccas (Yucca cv., Zones 5–9) in the background have a coarse yet bushlike texture that contrasts with the rough leaves of Jerusalem sage. Pops of shocking magenta from the bougainvillea and moody purple from the Chinese fringe flower foliage add drama to the entire scene.
Key water-wise plants
Pair bold with fine for a foolproof combo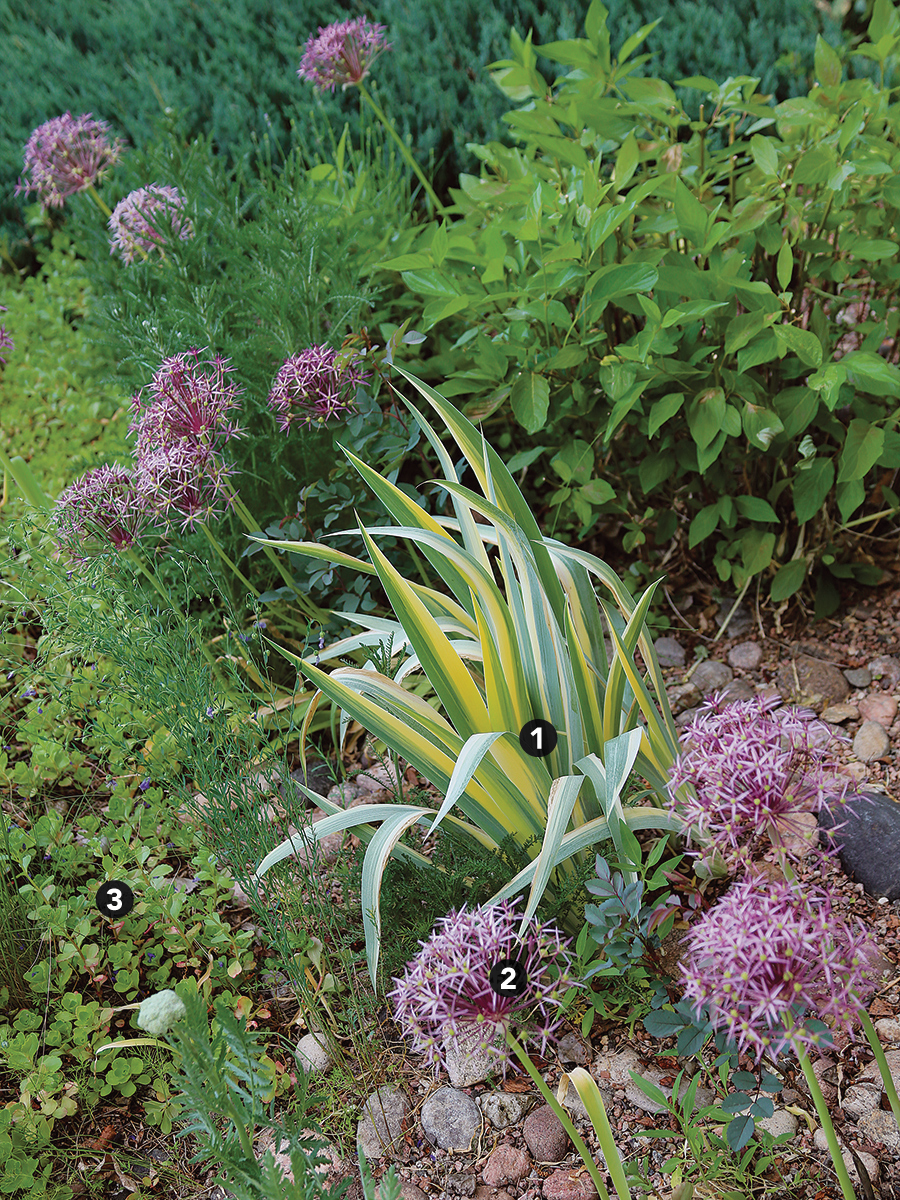 Yes, the streaked iris foliage and the soft ­amethyst allium blooms are lovely in this simple combination. But what really stands out is how the threadlike stems and filament-like flowers of the alliums contrast with the wide, smooth leaves of the iris. It's a texture mash-up that is hard to look away from. If your low-water spot can only hold a couple plants, selecting ones with contrasting textures is a recipe for success.
Key water-wise plants
Gold variegated sweet iris (Iris pallida 'Aureo Variegata', Zones 4–8)
Giant allium (Allium giganteum, Zones 4–9)
Caucasian sedum (Sedum spurium, Zones 3–8)
---
Danielle Sherry is the executive editor.
Photos: Danielle Sherry